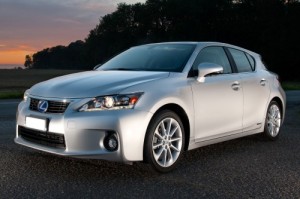 Looking for a little luxury in a used car? Discerning buyers may well consider models from Lexus, Toyota's luxury brand. Here we take a look at 10 of the best used Lexus models that should be on any serious used Lexus shopper's consideration list.
2011-2013 Lexus CT 200h – A hybrid-electric compact four-door hatchback, the Lexus CT 200h is not only fuel efficient but fun to drive. That's not a misnomer. The Lexus CT 200h offers spirited driving because it was specifically designed for it, thanks to special suspension components and lower stance. Offered in a single trim, the pricing for 2011-2013 Lexus CT 200h models ranges from $21,490 to around $32,800.
2012 Lexus LFA Coupe – Considered "shockingly" expensive, the 2012 Lexus LFA Coupe is a technological tour de force. Admittedly, the LFA Coupe is not for everyone, but for the discerning buyer who wants to make a statement, it may be the best used Lexus model you can find. Exquisite V10, razor-sharp handling, super-precise steering – these are LFA Coupe attributes to admire. Punishing ride, single-clutch transmission and lack of prestige heritage of competitive exotic sports cars are what's not to like. As for price – if you have to ask – it ranges from $319,999 to $398,998.
2011-2013 Lexus IS 350 – Now redesigned for the 2014 model year, savvy buyers can likely find a deal on the second-generation Lexus IS 350 from the 2011-2013 model years. Quick acceleration, quality materials and first-class build quality contribute to the luxury sedan, although taller drivers may find headroom a bit lacking and back seat passengers may complain of insufficient legroom. Prices range from $25,988 to $40,980.
2011-2012 Lexus ES 350 – With an all-new redesign for 2013, the 2011-2012 Lexus ES 350 midsize, front-wheel drive luxury sedan could well be the used luxury car of choice for Lexus shoppers looking for a great deal. Smooth engine, pleasant to drive, if not overly sporty, impressive materials quality inside – all are compelling reasons to check out the Lexus ES 350. Look for prices ranging from $18,878 to around $31,988.
2013 Lexus GS 350 – A midsize luxury sedan available in a single trim level, the latest redesign of the Lexus GS 350 occurred for the 2013 model year. Slightly wider and taller than the 2011 it replaced, the 2013 Lexus GS 350 is available in rear-wheel drive or all-wheel drive. Refined ride quality, top safety and entertainment features, and luxurious interior are pluses. Some critics say this is the best-handling Lexus outside of the LF A. Prices range from $36,985 to around $45,509.
2013 Lexus GS 450h – Engaging driving dynamics and substantially better fuel economy are the endearing characteristics of the 2013 Lexus GS 450h, the performance luxury hybrid from Lexus. Slightly wider and taller than the model it replaced, the 2013 GS 450h also has a generous standard features list, what you'd expect in a luxury hybrid. Prices range from about $45,695 to $72,888, so, not cheap, by any means.
2009-2012 Lexus IS F – A compact, high-performance luxury sedan, the Lexus IS F has a number of styling cues that separate it from its IS siblings. These include aerodynamic enhancements, wider front fenders and rear spoiler, among others. The car's strengths include acceleration, braking and handling. The ride is pretty stiff in 2009-2010 models, but much improved in 2011-2012 models. As for prices, look for them to range from $35,900 to $46,888.
2010-2013 Lexus RX 350 – A midsize luxury crossover SUV, the 2010-2013 Lexus RX 350 seats five in comfort (but there's no available third-row seating), has a high quality interior and its optional Mark Levinson audio system is one of the audio systems in the car market. Steer clear of the Sport package, though, as most critics say the price isn't worth it. Speaking of price, look for them to range from $19,900 to around $43,977.
2013 Lexus LX 570 – With ultimate luxury seating for eight, including a comfortable and spacious third-row seat, the 2013 Lexus LX 570 is a more upscale (and much, much pricier) version of the Toyota Land Cruiser full-size SUV. Where the LX 570 shines is in serious off-road duty, not that most buyers use it for that. The key is sophisticated off-road technologies, including the electronically-controlled off-road Crawl Control mode. Just want to look good? Then buy a used 2013 Lexus LX 570 because you can. Prices range from $68,555 to $79,000.
2010-2013 Lexus GX 460 – All-new in 2010 when it replaced the GX 470, the Lexus GX 460 is only available with four-wheel drive and is not quite as nimble as car-based crossovers. It is, however, quite adept at off-roading, as befits a truck-based SUV. Prices are in the $29,500 to $51,977 range.